Message from the Rector
9 June 2017 / 10:46 hrs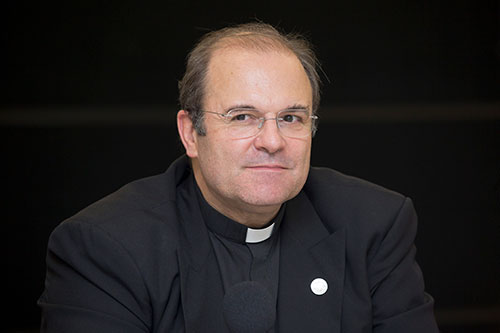 Dear friends:
Welcome to the Universidad Anahuac Mexico, an academic community striving to bring a comprehensive scope of the human being among all its members, and to share it with those striving for their personal and professional growth.
We want to be a community amid a world searching for individualism; a community aware that nobody can do what we have to do, that we have to stand out in our society to build a world that only centers on the human person.
Today's world is going through fast-changing, extremely unstable times in almost every aspect. This is why at this University we are working in a Strategic Plan toward 2020 as a response to the needs of the society in seven different action lines: comprehensive instruction for everyone, integration of the Anahuac community, consolidation of our leadership in Greater Mexico City, deepening and improvement of the Anahuac Educational Model, strategic partnerships with productive and social sectors, social impact research, and consolidation of internationalization.
In this line, and because of our strategic partnerships with the productive sectors, we are consolidated as one of the three best universities in employability in our country, and is among the best 300 universities worldwide, according to the QS Graduate Employability Rankings 2017-2018, the most distinguished ranking worldwide.
We know we are not alone in our effort to achieve education of quality, as the one we are committed to, with the international and national accreditations and our alliances with reputable institutions such as ANUIES, FIMPES, AMIESIC, and the Secretariat of Public Education of our country.
As a proof of our academic quality, we are consolidated among the best three higher education institutions in Mexico, according to the QS World University Rankings 2018. Additionally, we are among the top 2.3% of the best universities worldwide.
Turning back to our youth is the only way not to forget the appropriate path for our mission. Our graduate men and women behave in accordance with the greatest universal values, and have the great responsibility of serving the society.  They are positive action leaders.
Sincerely,
Cipriano Sánchez García, LC, PhD
Rector