The Anahuac in 2nd place nationwide and 8th place in Latin America for graduate employability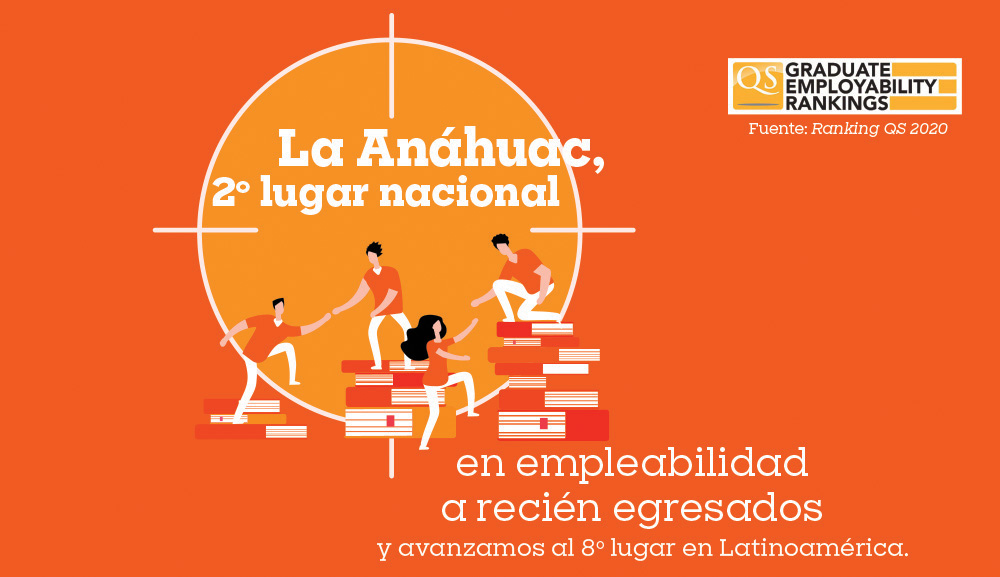 The QS Graduate Employability Rankings 2020 recognized the universities that better encourage employability among its students and graduates.

At the Universidad Anahuac Mexico, our students and graduates are the best testimonial that what we do as Institution resonates in the society. They are men and women with an education as Positive Action Leaders.

As in every year, the QS Graduate Employability Rankings 2020 recognized the universities that better encourage employability among its students and graduates. In this line, the Anahuac was recognized as one of the 300 best universities in employability worldwide placing us in second place nationwide in terms of employability for recent graduates in Mexico and among the best eight in Latin America.

For this ranking, five indicators are taken into account: employer reputation, alumni outcomes, partnerships with employers per faculty, employer/student connections, and employment placement for recent graduates, in which our university stood out as the previous year.

It must be said that at a national level we are within the top 3 of the best universities in Mexico, considering all ranking indicators. In other words, we have improved one place compared to 2019.

Graduate employability is vital in understanding how successful universities promote employability. It involves measuring the proportion of graduates (excluding those opting to pursue further study or available to work) in a full or part-time employment within 12 months of graduation.

The QS Ranking aims at providing world's students with tools by which they can compare the employability levels of university graduates both in their country of origin, as well as in other regions and globally.

The reputable agency, Quacquarelli Symonds, is in charge of what is possibly the most extensive research on employability among higher education institutions worldwide.

For the third consecutive year, we are consolidated among the best universities in Mexico in terms of employability. This demonstrates the professional leadership of our graduates, as they are being hired by national and international leading companies, in recognition of their academic excellence.

The Universidad Anahuac Mexico permanently works in strategic partnerships with productive and social sectors, for our students to develop in a relevant, innovating, entrepreneurial, and international environment, towards their successful insertion in the labor market.

We acknowledge our students and graduates who place the name of the Anahuac in a high level in Mexico, Latin America, and worldwide. Likewise, we acknowledge and appreciate the trust of national and foreign companies with whom we collaborate in the generation of better opportunities and solutions for the Mexican society.
For further information, please contact:
Directorate of Institutional Development
Anahuac Coordination of Employability
Elizabeth Osorio Cervantes, BS                                     
Katia Toxtli Hernández, MS
empleabilidad.anahuac@anahuac.mx
Noticia_institucional
Desactivado
Noticia Principal
Desactivado