Chemical Engineering
| | |
| --- | --- |
| | This Engineering has the accreditation of CACEI (Consejo de Acreditación de la Enseñanza de la Ingeniería, A. C.). |
This Engineering Program is accredited by the Engineering Accreditation Commission of the international organization; ABET (Accreditation Board for Engineering and Technology.)

Retroactive to graduate students since 2015; of the Norte campus (Huixquilucan).;
The Chemical Engineering program, in accordance with its constituencies, has developed a set of Program Educational Objectives (PEO's). These objectives were originally generated in consultation with faculty members and from discussions with alumni and employers. Afterwards, they were validated by the Engineering Advisory Committee. Chemical Engineering graduates are expected to attain the following PEO's within a few years from graduation:
To transform raw material and natural resources rationally into high added-value goods and products by assessing problem solving alternatives and feasibility and by selecting the most convenient based upon the lowest environmental impact and the highest productivity, as well as using creativity and innovation for social benefit.
To apply engineering knowledge on process design using clean energy technologies and sources.
To promote creation of enterprises and jobs, generating an environment of wealth and social wellbeing through their knowledge.
To manage plants and chemical and industrial processes where raw materials are transformed into high added-value goods and products.
To keep their knowledge ahead regarding current process technologies.
To demonstrate sensibility on environmental, social, safety, and economic effects demanded by the professional practice and therefore, perform in accordance with professional ethics and values.
To apply cutting-edge technologies in the area of telecommunications to collaborate efficiently in interdisciplinary teams with positive leadership.
    Student Outcomes
 An ability to identify, formulate, and solve complex engineering problems by applying principles of engineering, science, and mathematics
 An ability to apply engineering design to produce solutions that meet specified needs with consideration of public health, safety, and welfare, as well as global, cultural, social, environmental, and economic factors
 An ability to communicate effectively with a range of audiences
 An ability to recognize ethical and professional responsibilities in engineering situations and make informed judgments, which must consider the impact of engineering solutions in global, economic, environmental, and societal contexts
 An ability to function effectively on a team whose members together provide leadership, create a collaborative and inclusive environment, establish goals, plan tasks, and meet objectives
 An ability to develop and conduct appropriate experimentation, analyze and interpret data, and use engineering judgment to draw conclusions
 An ability to acquire and apply new knowledge as needed, using appropriate learning strategies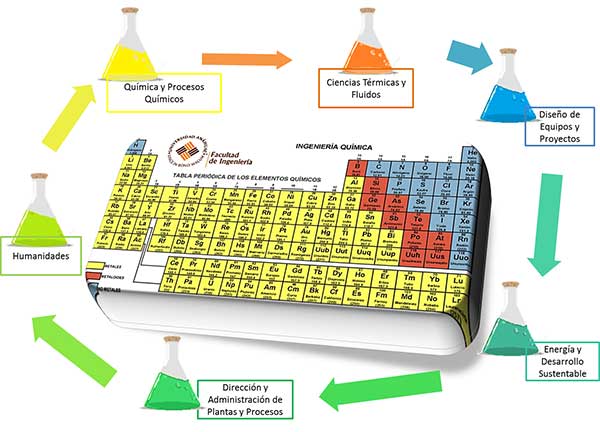 Knowledge Areas:
Chemistry and Chemical Processes (Unit Operations)
Fluids and Thermal Sciences
Energy and Sustainable Development
Chemical Facilities and Projects Management and Administration
Equipment, Process, and Project Design
Choosing certain elective subjects allows you to obtain a Diploma of specialization, which is an additional tool to become a professional with a greater field of labor action.
---
Facility and Project Management Diploma
---
Efficient Energy Use and Sustainable Development certificate
Curricular Model 2025
---
Curricular Model 2016
---
Curricular Model 2010
---
| | | | |
| --- | --- | --- | --- |
| Programa: Chemical Engineering | Number of New Students | Number of  Graduated Students | Number of Actual Students |
| 2019-2020 Period | 35 | 26 | 137 |
| 2018-2019 Period | 35 | 26 | 95 |
| 2017 -2018 Period | 25 | 16 | 81 |
| 2016-2017 Period | 17 | 10 | 87 |
| 2015-2016 Period | 26 | 22 | 93 |
| 2014-2015 Period | 34 | 24 | 93 |