Systems and Information Technologies Engineering
Objectives
---
It deals with the analysis, design and development of systems that include databases, adaptation and implementation of integrated business systems (ERP), computer resource management, consulting for information technology solutions, and application of new technologies in systems and systems. development of information systems on the Internet.
His training allows him to develop software, provide support consultancy and propose technological solutions, as well as manage information technologies, being a leader in the use of state-of-the-art technological resources.
On the other hand, when you graduate you not only get the degree of Systems Engineer and Information Technology, but you can also obtain some of our specialties and also the industry certifications that allow you to demonstrate your skills in the leading technological tools of the industry.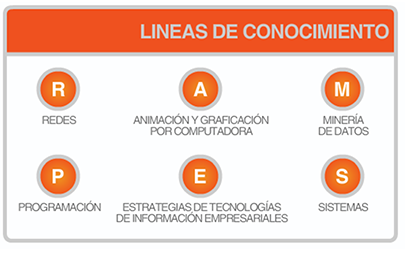 Diplomas Plan 2010
---
Diploma en Animación y Graficación
 Desarrollo de videojuegos
 Gráficos y animación por computadora
 Procesamiento de imágenes
 Programación de gráficos
Diploma en Redes de Comunicación
Calidad de servicio de redes
Conmutación multicapas
Diseño de redes
Ruteo avanzado
Seguridad avanzada en redes
Diploma en Tecnologías de información para la Gerencia
Administración de proyectos de software
Algoritmos de optimización
Gestión de tecnologías de información
Procesos y modelos de desarrollo de software
Diplomas Plan 2004
---
Diploma en e - Business
Las materias que debes de cursar para obtener este diploma son:
| | |
| --- | --- |
| IIND2101 | Cadena de Suministro I |
| IIND4108 | Sistemas Integrados de Empresa |
| ITI3001 | Selección adaptación e instalación de sistemas integrados ERP |
| ITI3104 | Tecnología aplicada al comercio electrónico |
Diploma en ERP
Las materias que debes de cursar para obtener este diploma son:
| | |
| --- | --- |
| IIND2101 | Cadena de Suministro I |
| ITI3001 | Selección adaptación e instalación de sistemas integrados ERP |
| ITI3104 | Sistemas para el manejo de la relación con el cliente CRM |
| IIND4108 | Sistemas Integrados de Empresa |
Diploma en Graficación y Animación por Computadora
Las materias que debes de cursar para obtener este diploma son:
CMP3002

Arquitectura de Nuevos Medios

CMP3109
CMP3111
Inteligencia Artificial ó
Nuevos Paradigmas de Programación II

ITI3109

Graficación por Computadora

ITI3111

Programación de Gráficas
Computacionales
Curricular Model 2025
---
Curricular Model 2016
---
Curricular Model 2010
---