Crossing the border to change the world: Dr. Quiñones receives honorary degree from the Anahuac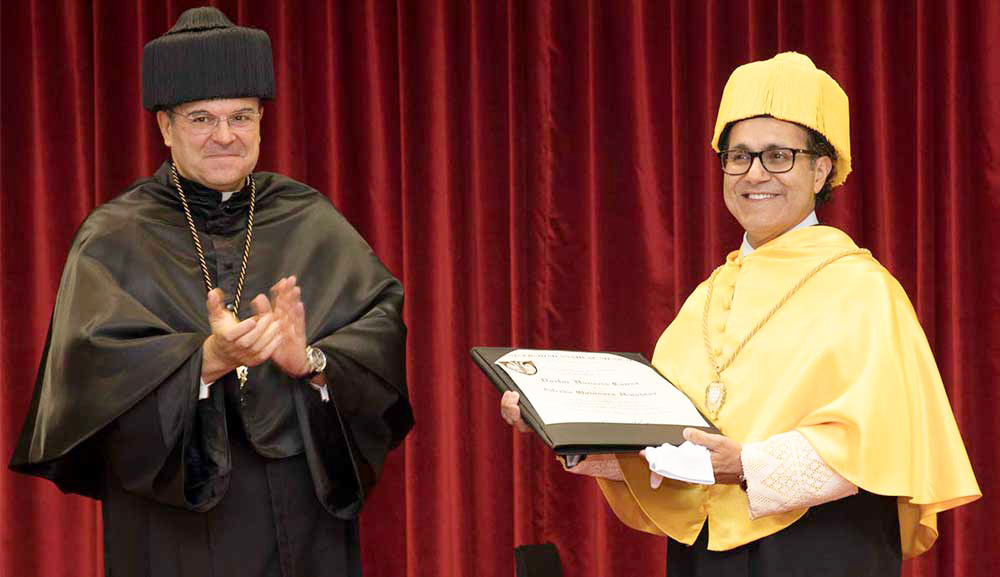 We recognize the contributions of this exceptional Mexican to the field of neurosciences at international level and his generous help to those most in need.
Many are the dreamers who leave their country of origin behind in search for the "American dream" only with what they can carry on their shoulders.
Is moving forward in another country a matter of luck? For Dr. Alfredo Quiñones Hinojosa -better known as Dr. Q-, who left his hometown on the outskirts of Mexicali, Baja California at the age of 19 to become an undocumented worker in the American fields. Believe in oneself and "learn to dream" are the key to success.
This morning, the Universidad Anahuac Mexico granted him an honorary doctoral degree in recognition for the contributions of this exceptional Mexican in the field of neursciences and international level, his commitment to the human values and his generous help to those most in need.
The main hall at the north campus hosted Dr. Quiñones in a solemn ceremony. He is a person of humble origins who worked as painter, welder, train operator, mechanic, and cotton harvester. He became one of the 100 most influential Hispanics worldwide according to the Forbes magazine in 2015.
The unbelievable story of this 51-year-old man -who was an amateur boxer when he was young and considered Muhammed Ali his hero- has now inspired hundreds of young students, since "hard work beats talent when talent doesn't work hard".
In the company of our students, academic authorities, administrative staff and media, Dr. Alfredo Quiñones, chairof Neurosurgery of the Mayo Clinic in Jacksonville, Florida, recalled that in order to defeat evil with good, he have to dream and make our dreams come true.

"Each of you has the power of dreaming and changing the world, the power of dreaming of a better world. Sometimes it is the most unexpected people the ones who make the things that no one ever imagined before", he added.

He also received our first ALPHA Award. Author of the book Becoming Dr. Q: my journey from migrant farm worker to brain surgeon, said that Mexico and its people have so much to give: "Mexico is a country full of kind, humble, and working people. You have the power to change the world, the power to imagine a better world".

Lastly, with the following words, he acknowledged the Honorary Doctorate Degree he received from our University: "Thank you all for looking at what many other do not even imagine, for speaking out loud, for having the courage of accepting your mistakes, for dreaming and making your dreams come true, for building bridges where others want barriers, for being humble, for trying to defeat ignorance with science, for defeating injustice with mercy, for defeating the evil with good. Thank you for giving me this recognition that I accept on behalf of my parents, my wife and my children, my patients and their families, and all my team at the Mayo Clinic. On behalf of all those who need to know that hope is greater than fear, and that fear is faced with hope".

During this ceremony, our Rector, Dr. Cipriano Sánchez García, L.C., recalled that Dr. Q is a scientist and a person who overcame barriers, and tells us we all can do it.
"His story tells us that we can go beyond those barriers in our life. You are a great example of that. You have demonstrated that nothing is written in stone, that nothing is meant to be taken as a sentence", he stated.
He also explained that the Anahuac acknowledges the value of his life, his being, and his making: "it is an honor for us to know that among our community there are people making of science their way to not only defeat ignorance, but also to find the way of being closer to those most in need."
His incredible and passionate testimony of life and career let us see the human quality of this indefatigable researcher who is in search for the cure of brain cancer, one of the most devastating diseases affecting "the most beautiful organ of our body" in his own words.
His perseverance to overcome difficulties and his outstanding career -without forgetting his humble origin- took him to be co-founder and president of Mission: BRAIN, a non-profit foundation performing complex surgeries in underserved areas in Mexico and all over the world.
Although his life has not been easy, the story of the 19-year-old immigrant who studied English and became Associate Professor of Neurological Surgery, Associate Professor of Oncology, Head of Brain Tumor Surgery at Johns Hopkins Bayviews Medical Center, and Director of the Pituitary Surgery Program at the Johns Hopkins Hospital demonstrates that it is possible to make your dreams come true with passion and dedication.

For further information, please contact:
Academic Vice-Rectory
Rubén Esqueda Acton, MS
resqueda@anahuac.mx
Noticia_institucional
Desactivado
Noticia Principal
Desactivado